Humzor NexzDAS Pro Full-system OBD2 Bluetooth Auto Diagnostic Tool with Special Functions
Brand:

HUMZOR

Product Code:

SC393-B

Availability: In Stock
Weight: 0.40kg
Size (LxWxH):

9.70cm x 4.90cm x 2.70cm
Looking for help? or Get More Discount Please contact WhatsApp:
+1 850 888 8336
Humzor NexzDAS Pro Full-system Bluetooth Auto Diagnostic Tool OBD2 Scanner Car Code Reader with Special Functions

Humzor NexzDAS Pro Professional Diagnostic Tool for passenger cars combines diagnosis, reset service and key programming in one, maximally offer the perfect diagnostic solution for mechanics who demand unrivalled OE level smart technology and smart repairs, making car repair more intelligent, convenient and efficient.

Top Reasons to ChooseHumzor NexzDAS Pro

1. Affordable and Powerful
Freely choose Android smart phone, tablet to achieve intelligent and efficient operation, making diagnosis easier. ( iOS and Windows are under developing)

2. Full-system Diagnosis
Full-system quick scan for passenger cars, deep diagnosis on all the electronic systems of the car with detailed report, Engine, Transmission, ABS, SAS, SRS, TPMS,etc.

3. Advanced Reset Service
Reset service: Oil Reset, TPMS, ABS, SAS, TPS, DPF, EPB, Battery Test, Injector Adjust all included to meet your extra demands.

4. Professional Key Programming
Professional and convenient IMMO, add new key, erase keys, key programming, all key lost via OBD...

5. Complete OBD2 Functions
Fully covers OBD2 diagnosis modes, read current, pending and permanent codes quickly, clear fault codes and turn off the Check Engine Light.

6. Wide Vehicle Coverage
Powerfully support over 70 car brands, including American, European, Australian, Asian cars.

7. Free Download & Update
Free download and update for wide vehicle models in the App Store of the software. No other fees with lifetime free upgrade with more powerful versions.

8. Continuously Releasing New Functions
More advanced functions are under developing now for later release, such as ECU coding & programming, more supported models, etc. All free to update gradually.

9. User-friendly Experience
Quick access to VIN Query, DTC Query, Data Manage, Data playback, Remote Assistance, Feedback icon, Screenshot, etc. fully provide you with intelligent and easy operation.

10. Multi-languages Supported
Switch the language you need within the App freely, English, Italian, German, Russian, French, Spanish, Polish, Traditional Chinese, more are under adding.

What Can NexzDAS Pro Help With?

1. Full-System Diagnosis for Passenger Cars

Quick Scan:
Read/clear codes for all systems, input the VIN and automatically recognize it, or manually select the vehicle model,type and year to start the quick scan for all the control units and get the inspection result with detailed DTC description.

Actuation Test:
Carrying out tests on some components of the vehicle and access vehicle specific subsystems. It may vary by makes, models, types, years, thus only the available ones will be shown.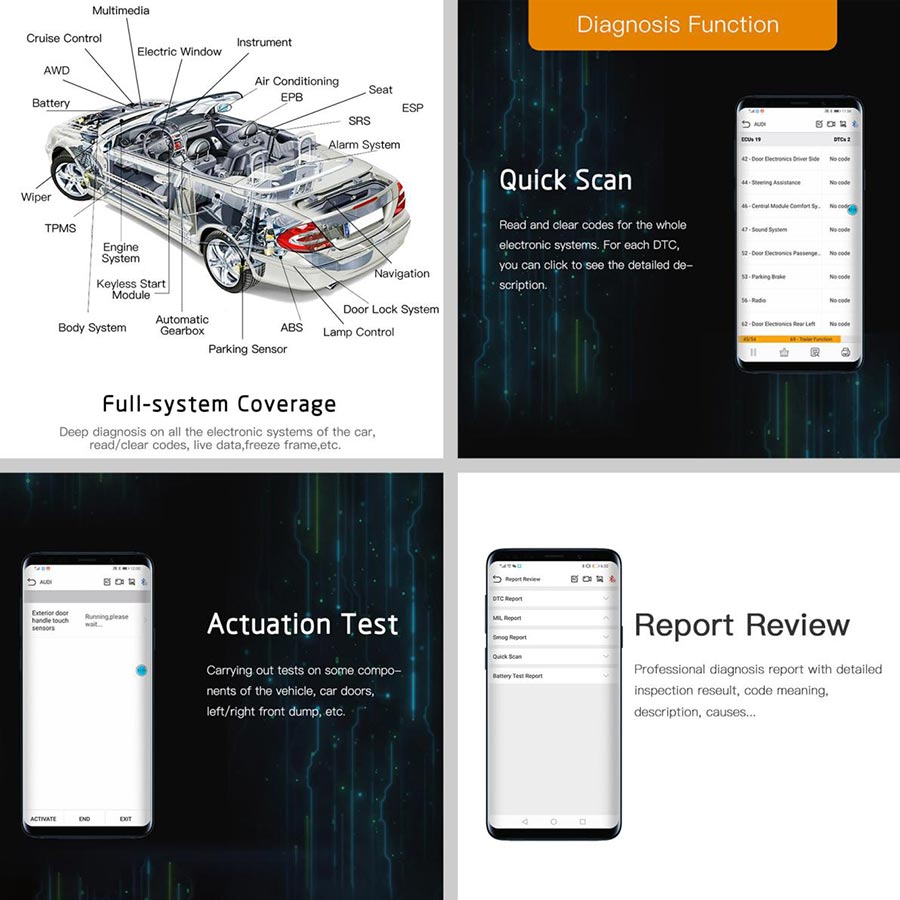 Humzor NexzDAS Pro Vehicle Coverage:

America:Buick, Cadillac, Chevrolet, Chrysler, Ford, GM, GMC, Hummer, Jeep, Lincoln, Mercury, Saturn, Pontiac, Oldsmobile, Scion

Europe:Abarth, Alfa Romeo, Aston Martin, Audi, Bentley, Benz, BMW, Bugatti, Citroen, CVVW, Dacia, Ferrari, Fiat, Ford, Jaguar, Lamborghini, Lancia, Landrover, Maserati, Mini, Opel, Peugeot, Renault, Rolls Royce, Saab, VW, Seat, Skoda, Smart, Vauxhall, Volvo

Asia:Acura,Daewoo, Honda, Hyundai, Infiniti,Isuzu, Kia, Lexus, Mazda, Mitsubishi, Nissan, Renaultsm, Ssangyong, Subaru, Toyota, Suzuki

Chinese: Byd, Changan, Changhe, Chery, Emgrand, Englon, Foton, Geely, Gleagle, Gwm, Hbsh, Huachen, Riich, Wuling, Yuan, Zotye

Australia: Ford, Holden
More Models Coming Soon...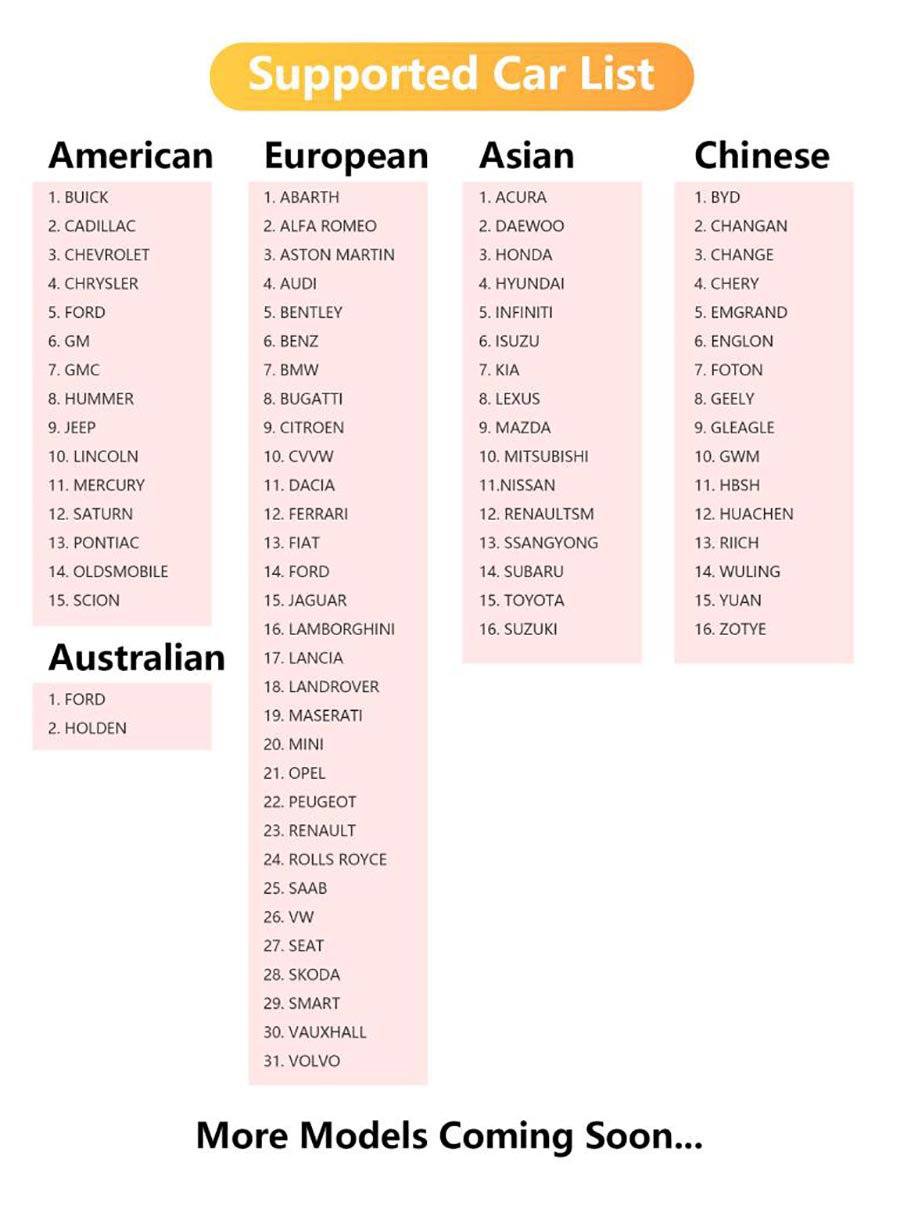 2. Special Functions

NOTE: These special functions are not for all car models, if you are confused, please send me your car model and we will check it for you.

Oil Reset:Allows you to perform reset maintenance mileage and data intervals for a new calculation of Engine Oil Life system once changed the oil.

TPMS Reset:Makes TPMS sensor in displaying sensor IDs from the vehicle's ECU, inputting TPMS sensor replacement IDs and activate TPMS sensors.

Injector Adjust:Diesel injector code need programming ID and parameters to the ECU for accurate communication and Injection control system

EPB Reset:It is important in the maintenance of electronic braking system's safety and efficiency when replace brake pad or motor

DPF : Specially works for Diesel Particulate Filter system with DPF regeneration, DPF component replacement teach-in and DPF teach-in after replacing the engine control unit.

TPS/Throttle Sensor : Vehicle's throttle position system sensor connected to the butterfly spindle and is primarily used to monitor the throttle position within an inner combustion engine. Due to its location, the throttle position sensor is able to effectively observe where the throttle butterfly valve is positioned.

ABS Bleeding : The auto bleed procedure is used on BOSH 5.3 equipped vehicles. This procedure uses a scan tool to cycle the system solenoid valves and run the pump in order to purge the air from the secondary circuits.

SAS Reset: Helps clear the fault steering angle sensor memories and plays an important role in the steering angle sensor calibration.

Battery Change: Allows the scan tool to evaluate the battery charge state, monitor the close-circuit current, register the new battery replacement, and activate the rest state of the vehicle battery system

Further more will be released for free updating:Gear Learning, Odometer Adjustment, SRS, CVT Transmission...

Humzor NexzDAS Pro Vehicle Coverage:

| | |
| --- | --- |
| Oil Reset | Baic, Byd, Chery, Faw Car, Greatwall, Jac, Luxgen, Soueast, Rover, Acura, Audi, Benz, Besturn, Bentley, Buick, Bugatti, Bmw, Cadillac, Chrysler, Citroen, Dacia, Daewoo, Dodge, Ferrari, Fiat, Ford, Gm, Holden, Honda, Hummer, Hyundai, Infiniti, Isuzu, Jaguar, Jeep, Kia, Landrover, Lamborghini, Lexus, Lincoln, Maserati, Mercury, Mini, Mitsubishi, Nissan, Oldsmobile, Opel, Peugeot, Porsche, Pontiac, Renault, Rolls-Royce, Romeo, Rover, Saab, Saturn, Scion, Seat, Skoda, Smart, Subaru, Suzuki, Toyota, Vauxhall, Volvo, VW |
| TPMS | Audi, Benz, Buick, BMW, Cadillac, Chrysler, Dodge, Ford, GM, GMC, Honda, Hummer, Hyundai, Infiniti, Jaguar, Jeep, Kia, Landrover, Lexus, Lincoln, Mercury,Mitsubishi, Nissan, Porsche, Pontiac, Saturn, Scion, Sgm, Subaru, Toyota, VW |
| Injector Adjust | Citroen,Fiat,Hyundai,Jaguar,Kia,Landrover,Mitsubishi,Opel,Subaru,Vauxhall |
| EPB | Bmw, Citroen, Daewoo, Gm, Honda, Hyundai, Jaguar, Kia, Landrover, Opel, Peugeot, Renault, Saab, Subaru, Toyota, Vauxhall, Volvo, VW |
| DPF | BMW, Citroen, Daewoo, Jaguar, Landrover, Opel, Peugeot, Subaru, Vauxhall |
| Battery Change | Ford, Jaguar, Landrover, Lexus, Toyota, Volvo |
| SAS | Baic, Baojun, Byd, Zotye, Soueast, Haima, Df_Feng_Xing, Df_Feng_Shen,Df_Xiao_Kang, Chery, Roewe, Trumpche, Geely Emgrand, Geely Englon, Geely Gleagle, Jac, Jmc, Lifan, Greatwall, Daewoo, Ssangyong |
| Throttle Sensor | Baojun, Byd, Acura, Bmw, Chrysler, Daewoo, Buick, Cadillac, Chevrolet, Holden, Pontiac, Saturn, Honda, Jeep, Kia, Nissan, Toyota,Volvo |
| ABS | Daewoo, Jaguar, Landrover, Opel, Renault |

3. Key Programming

Immo Code Reading: Can read the Immo code of specific car models.
Key programming: Greatly supports key matching.
Add car key: Add and match new key to the car.
Erase car key: Delete the key that does not need.
Key information reading: Read the information of the key, quantity,frequency etc.
All key lost: Support most cars all key lost via direct OBD matching.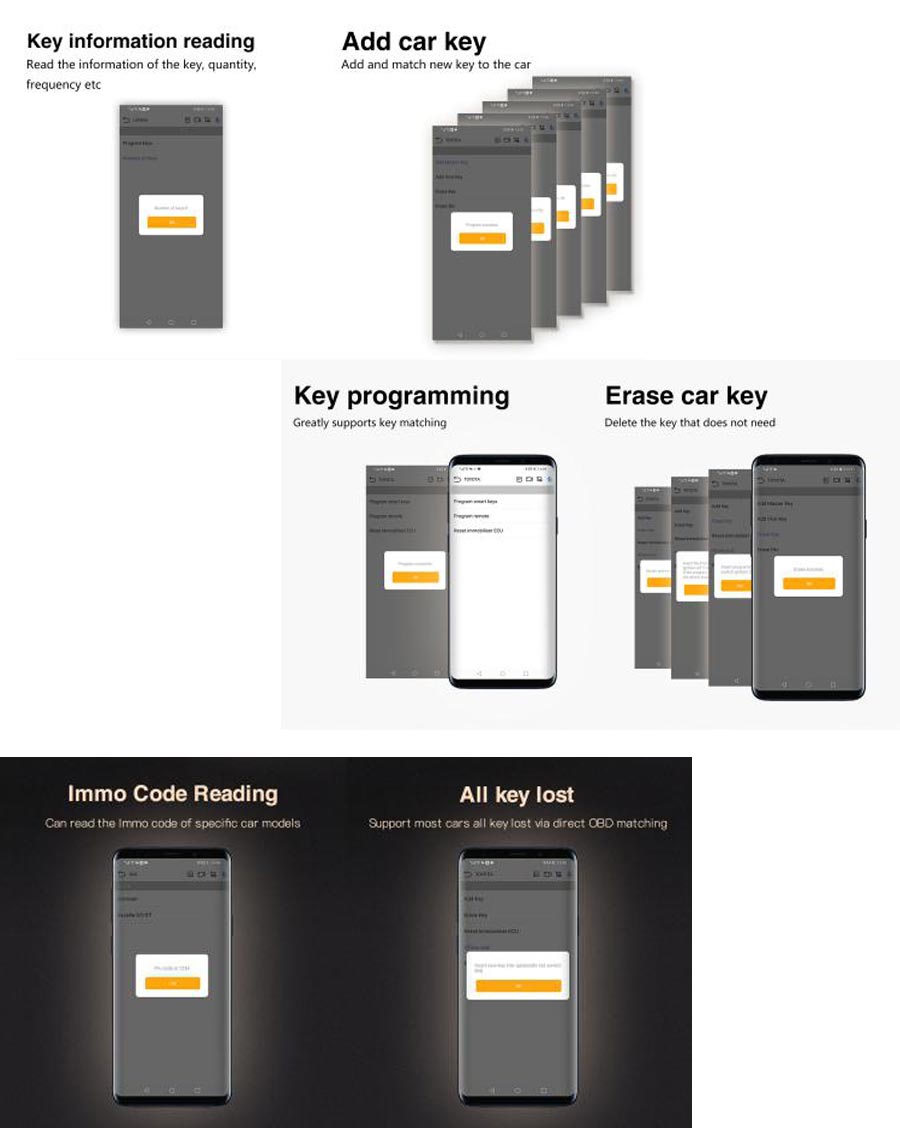 Humzor NexzDAS Pro Vehicle Coverage:

Asia: Ssangyong, Mitsubishi, Nissan, KIA, Lexus, Mazda, Infiniti, Hyundai, Subaru, Toyota
America: GM, Chrysler, Jeep, Dodge
Europe: Alfa, Lancia, Smart, Citroen, Ferrari, Maserati, Peugeot

4. Comprehensive OBD2 Diagnosis

Powerful OBD2 functions supports complete OBD2 Mode01-Mode0A.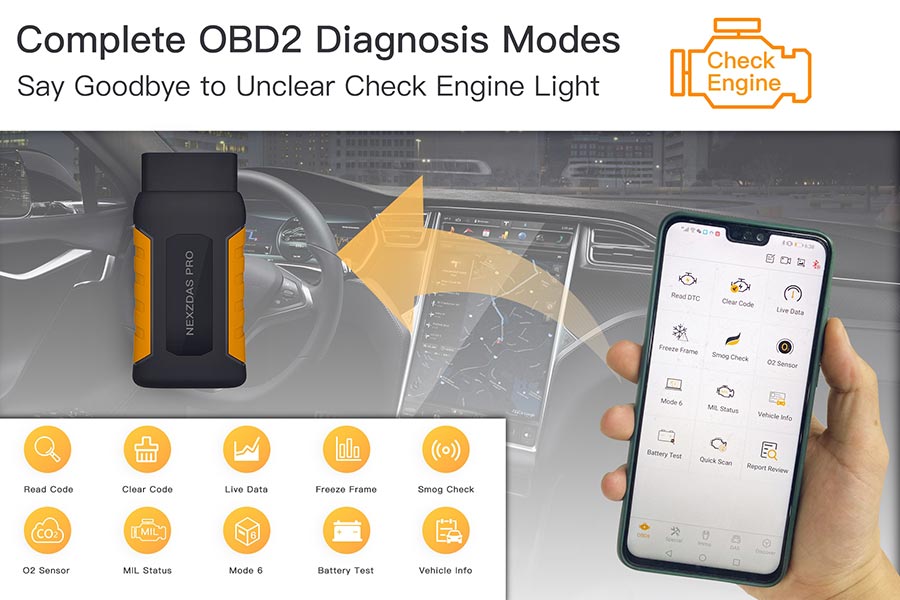 Read and Clear Codes: Read and clear engine codes. Stored, Pending and Permanent for all makes.
Freeze Frame: Freeze Frame data is a snapshot of the vehicle when the Freeze Frame code was stored.
Mode 6: Advanced test results (like misfire counts) for on-board diagnostic system monitors.
O2 Sensor: Check the vehicle O2 sensor values.
Battery Test:Show battery voltage and comment battery status.
Smog Check:Indicate whether or not the various emissions-related systems on the vehicle are operating properly and are ready for inspection and maintenance testing.
MIL Status : MIL is essentially an emission warning light. If the light comes on, it means the OBD II system has detected an emissions-related problem.
Live Data: DIY diversified PID display method(Graphic display, Dashboard display and Digital display). iOS supports 4 parameters comparison and Android supports 2.
Repair Reports: Generate a comprehensive report for the DTC, containing the definition, possible causes, saving you time and money.
Quick Scan:Quickly scan the vehicle and analyse vehicle status.
Vehicle Info:Check the make,years,VIN Code and other detail information of your Vehicle.

Multi-language Supported

English, Italian, German, Russian, French, Spanish, Polish, Traditional Chinese, more are under adding.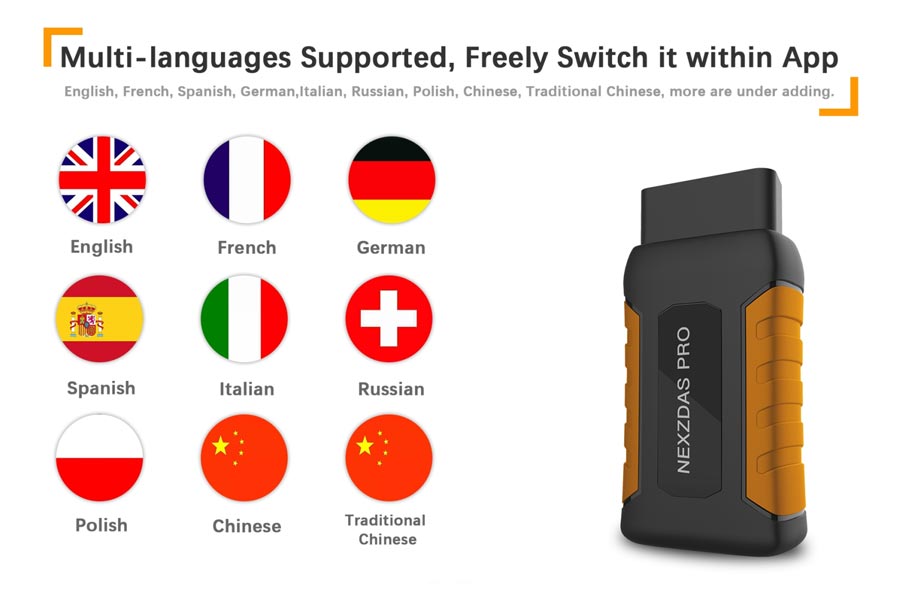 The Operating Produces




Humzor NexzDAS Pro Parameters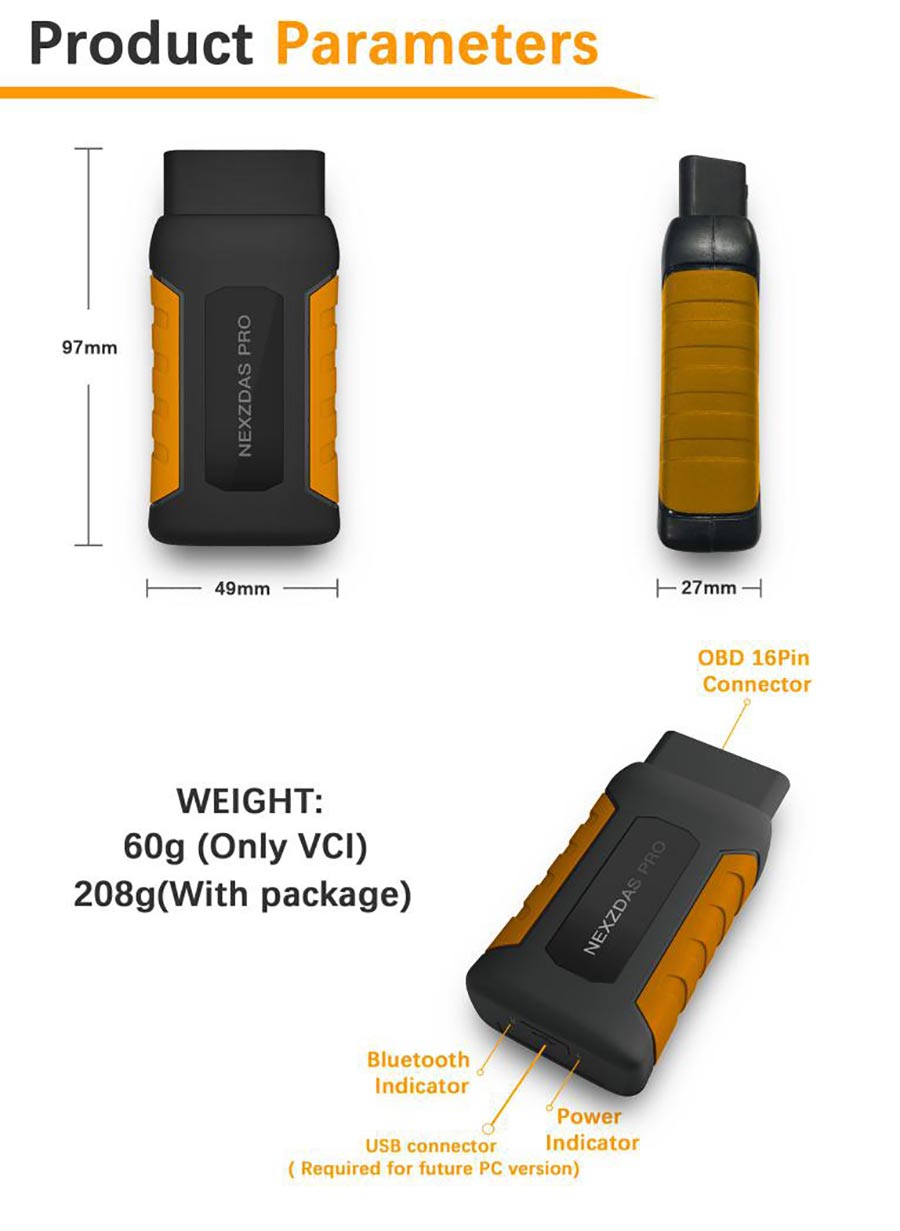 Humzor NexzDAS Pro Comparison List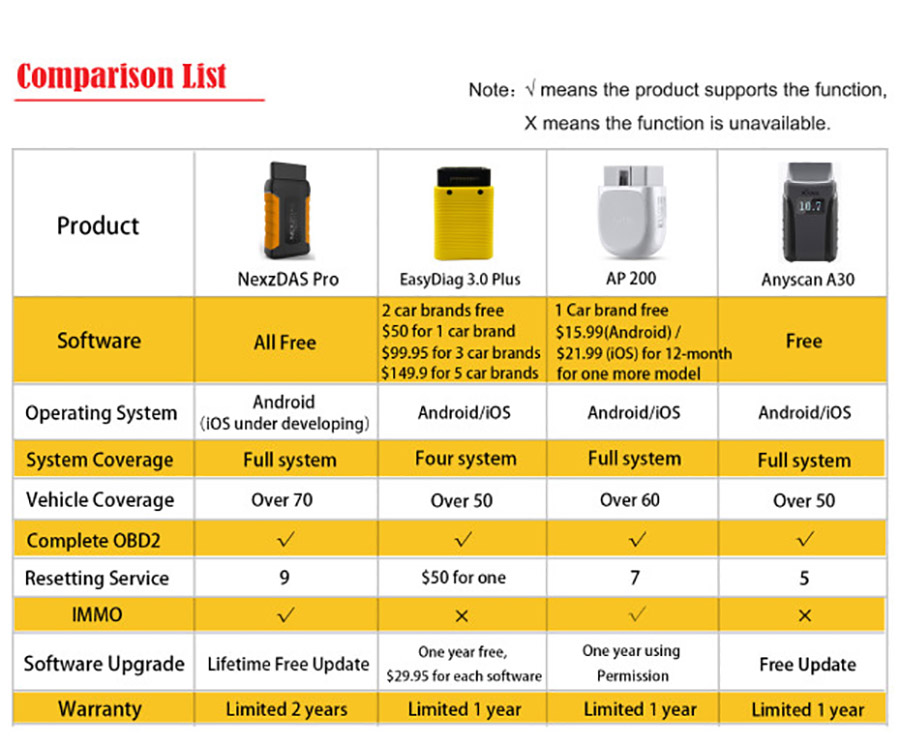 Humzor NexzDAS Pro Specifications:

| | |
| --- | --- |
| Operating System | Android system( iOS & Windows released later) |
| Communications | Bluetooth 4.2 |
| Operating Voltage | 9~30V DC |
| Operating Temperature | -20~70°C(14-158℉), Relative Humidity: < 90% |
| Storage Temperature | -40~85°C(-40-185℉), Relative Humidity: < 90% |
| Average Power Consumption | <2W |
| Dimension | 97mm*49mm*27mm |

Humzor NexzDAS Pro Package includes:

1PC x Humzor NexzDAS VCI
1PC x Password Envelope
1PC x Quick Start Guide
1PC x Package Bag