Autel MS908P MaxiSys MS908s Pro Wifi OBD Full System Diagnostic with J2534 MaxiFlash Elite
Brand:

Autel

Product Code:

ATIM0007

Reward Points: 200
Availability: In Stock
Weight: 10kg
Looking for help? or Get More Discount Please contact WhatsApp:
+1 850 888 8336
Autel MS908P MaxiSys MS908s Pro Wifi Diagnostic System with Online Update
Top 4 Reasons to Get Autel MS908P Maxisys Pro :

1. Extensive vehicle coverage for more than 80 US, Asian and European vehicle makes
2. Wi-Fi Technology: The VCI connects wirelessly to the main unit with Long-Range Class 1 Bluetooth
3. Update: Free Update Online for one year. After one year, update fee 800USD, please check One Year Update Service for Autel MaxiSYS MS908P
4. Free Shipping by DHL All Around the World, 3-5 Days Delivery

Autel MS908P Description:

The MaxiSys® Diagnostic Platform is an evolutionary smart solution for specialized automotive diagnosis and ECU programming. Designed with the DNA of Autel's diagnostics family, the MaxiSys is built to offer many of the prestigious qualities of the MaxiDAS DS708 with extreme ease of use and powerful diagnostic performance. However the MaxiSys has evolved far beyond the original capabilities. Utilizing an A9 quad-core 1.40GHz processor that offers 50% increase in speed versus competing products, a 9.7" LED screen with a resolution of 1,024 x 768 capacitive touch screen, the revolutionary multitask-capable Android Operating System, combined with the best possible coverage of OE-level diagnostics, the MaxiSys is the perfect diagnostic solution for shops and technicians who demand unrivalled smart technology and smart repairs.

Autel MS908P MaxiSys Pro Software Advantage:

1. Extensive vehicle coverage for more than 80 US, Asian and European vehicle makes
2. Easy and intuitive navigation makes finding what you need simple and fast
3. Open source Android Operating System for fast boot-up and multitasking
4. Displays live data in text, graph, analog and digital gauge for easy data review and analysis
5. Configures display options, sets triggers, records and playbacks results with one touch
6. Cloud-based Data Manager saves customer and vehicle records, scanner data and technician notes

Autel MS908P MaxiSys Pro Feature:

1. 9.7 inch 1,024x768 LED-backlit glossy widescreen Multi Touch display with IPS technology
2. Extraordinarily powerful Cortex-A9 quad-core processor
3. Built-in rechargeable lithium-ion battery for up to 8 hours of continuous operation
4. Dual-band (2.4 GHz & 5.0 GHz) 802.11n Wi-Fi to access your favorite web resources
5. Built-in 5-megapixel rear camera with autofocus and flashlight
6. Unique shop tough ergonomic design features strong rubber protection and housing;
7. USB, audio and auxiliary ports make it easy to connect accessories
8. Complete capabilities for codes, live data, actuation tests, adaptations, coding and ECU programming
9. Internal reliable and fast 32GB Solid State Drive for better performance.

Autel MS908P MaxiSys Pro Vehicle List:

AUDI, BENZ, BMW, DACIA, EU FORD, AU Ford, Ford, Holden, LANDROVER, MINI, OPEL, PEUGEOT, RENAULT, SEAT, SKODA, VW, VOLVO, SMART, JAGUAR, BENZ SPRINTER, SAAB, FIAT, ABARTH, LACIA, ALFA ROMEO, VAUXHALL, MAYBACH, BENTLEY, BUGATTI, PORSCHE,GM, CHRYSLER, FORD,SUZUKI, KIA, DAWEOO, ISUZU, TOYOTA, SUBARU, SCION, NISSAN, MITSUBISHI, LEXUS, INFINITI, HYUNDAI, HONDA, ACCURA, MAZDA.

Autel MS908P Update Guide:

Step 1:Register the tool
Please go to our website www.autel.com to register an Autel ID.
Then sign in our website with your Autel ID and password to register your tool: http://pro.auteltech.com/
Note: when registering the tool on our website, please make sure that the serial number and register
password that you input are correct. On the tool itself, you can press on Setup->About to double check
the serial number and register password. If you only have the S/N, please contact our technical support
to check out the register password.

Step 2:Update via Computer:
1. Log in our website with your Autel ID and password, and then download the latest PC Suite for your tool from your account.
2. Then please install the PC Suite on a Windows computer that can get Internet access.
3. Insert the SD card to USB port of the computer via a SD card reader, run the PC Suit, then input your Autel ID and password
to log in our system. If you forget your password unintentionally, you may always click the [Forget Password?] to link to our
website and reset your password.
4. Then wait for the Update window to display. You can use the pull-down menu on the right corner to select the correct SD card
if two or more SD cards have been connected to the PC. And you can click on the Install button to download the software updates.
5.To ensure the good performance of the scan tool, it is recommended to download and install all the software updates.
6. After downloading all the software, please insert the SD card back to the tool; then you can enjoy the new software.

Comparison between MS908P and other Autel Diagnose Systems
Diagnostic System
Comparison

Autel MS908P

Autel MS908

Autel Mini

Autel DS808

Autel DS708



CUP
Samsung Exynos
Quad-Core Processor
1.4GHz
Samsung Exynos
Quad-Core Processor
1.4GHz
Samsung Exynos
Quad-Core Processor
1.4GHz
Cortex-A9 processor
1.5GHz
Sumsung S3C2440
ARM9 Processor
400MHz
Operation System
Android 4.0 Ice
Cream Sandwich
Android 4.0 Ice
Cream Sandwich
Android 4.0 Ice
Cream Sandwich

Android™ 4.4.4

Window CE
SSD Hard Drive
32GB
32GB
32GB
32GB
Capacitive Touch
Screen Display
9.7" 1024x768 LED
Capacitive Touch
Screen
9.7" 1024x768 LED
Capacitive Touch
Screen
7.9" 1024x768 LED
Capacitive Touch
Screen
7.0"1024x600 LCD
Capacitive Touch
Screen
7.0" 800x480 TFT
Resistive Touch
Screen
Connectivity
USB 2.0 Ethernet
WiFi;Bluetooth
USB 2.0 Ethernet
WiFi;Bluetooth
USB 2.0 Ethernet
WiFi;Bluetooth
USB 2.0 Ethernet


Wi-Fi

USB 2.0
Ethernet Wifi
Dual Band 802.11n WiFi
2.4GHz & 5GHz
2.4GHz & 5GHz
2.4GHz & 5GHz
2.4GHz
Internal Battery
11000mAh 3.7V
Lithium Polymer
Battery
11000mAh 3.7V
Lithium Polymer
Battery
5000mAh 3.7V
Lithium Polymer
Battery

3200 mAh

3.7 V


Lithium Polymer
Battery
Weight(Display)
3.12lb(1.42kg)
3.12lb(1.42kg)
1.54lb(0.70kg)

2.42 lb(0.788kg)

2.95lb(1.1kg)
Camera(rear)
5.0 Megapixel
AF with Flashlight
5.0 Megapixel
AF with Flashlight
5.0 Megapixel
AF with Flashlight
Wireless VCI
●
●
●
Optional Lab Scope
●
●
●
Optional Video Scope
●
●
●
Boot Up Time
20 Seconds
20 Seconds
20 Seconds
20 Seconds
40 Seconds
Complete OEM Specific
Scanner Coverage
●
●
●
●
AutoVIN Technology
●
●
●
●
MaxiFix Cloud-Based
Information System
●
●
●
●
Shop Manager
●
●
●
ECU Coding
Good
Good
Good
Minimum
Minimum
ECU Flash Programming
●
Subscription-Based
On-Line Updates
●
●
●
●
●
J2534 Hardware Include
●

AUTEL MS908P MAXISYS Pro itself has already supported ECU programming function for BENZ and BMW cars, if you need to get support for more car models, you must use J2534 device along with OEM software to implement this function. J2534 DEVICE can not only use with AUTEL MAXISYS Pro , but also can work on other OEM software.





Using additional OEM software, the MaxiFlash Pro can be used as a Pass-Thru diagnostics tool as well, which allows users to read and clear Diagnostic Trouble Codes (DTCs) and data log PIDS, collect sensor data and log generic OBDII data etc.

Autel MS908P Function Descriptions
DTC & FFD
When this function is selected, the screen displays a list of Stored Codes and Pending Codes. When the Freeze Frame data of certain DTCs are available
for viewing, a snowflake button will display on the right side of the DTC item.The Erase Codes function can be applied by tapping the functional button at
the lower bottom of the screen.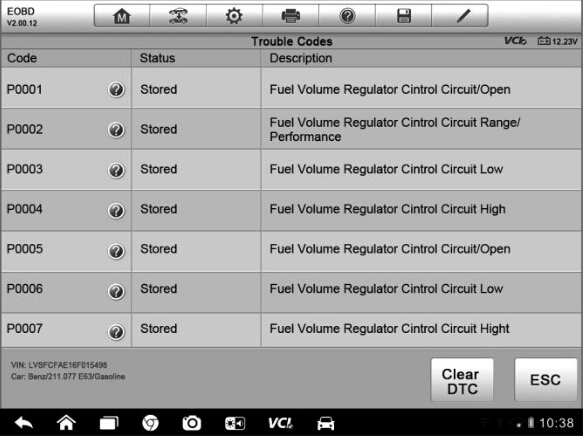 Stored Codes
Stored codes are the current emission related DTCs from the ECM of the vehicle. OBDII/EOBD Codes have a priority according to their emission severity, with
higher priority codes overwriting lower priority codes. The priority of the code determines the illumination of the MIL and the codeserase
procedure. Manufacturers rank codesdifferently, so expect to seedifferences between makes.

Pending Codes
These are codes whose setting conditions were met during the last drive cycle, but need to be met on two or more consecutive drive cycles before
the DTC actually sets. The intended use of this service is to assist the service technician after a vehicle repair and after clearing
diagnostic information, by reporting test results after a single driving cycle.
a) If a test failed during the driving cycle, the DTC associated with that test is reported.If the pending fault does not occur again within 40 to
80 warm-up cycles, the fault is automatically cleared from memory.
b) Test results reported by this service do not necessarily indicate afaulty component or system. If test results indicate another failure
after additional driving, then a DTC is set to indicate a faulty component or system, and the MIL is illuminated.

Freeze Frame
In most cases the stored frame is the last DTC thatoccurred.Certain DTCs, those that have a greater impact on vehicle emission, have a
higher priority. In these cases, the highest priority DTC is the one for which the freeze frame records are retained. Freeze frame data includes
a"snapshot" of critical parameter values at the time the DTC is set.

Erase Codes
This option is used to clear all emission related diagnostic data such as,DTCs,freeze frame data and manufacturer specific enhanced data from
the vehicle's ECM, and resets the I/M Readiness Monitor Status for allvehicle monitors to Not Ready or Not Complete status.A confirmation
screen displays when the clear codes option is selected toprevent accidental loss of data. Select Yes on the confirmation screen to continue, or
No to exit.

I/M Readiness
This function is used to check the readiness of the monitoring system. It is an excellent function to use prior to having a vehicle inspected for
compliance to a state emissions program. Selecting I/M Readiness opens a submenu with two choices:
Since DTCs Cleared–displays the status of monitors since the last timethe DTCs are erased.
This Driving Cycle–displays the status of monitors since the beginningof the current drive cycle.

Live Data
This function displays the real time PID data from ECU. Displayed data includes analog inputs and outputs, digital inputs and outputs,
and systemstatus information broadcast on the vehicle data stream.

O2 Sensor Monitor
This option allows retrieval and viewing of O2 sensor monitor test results for the most recently performed tests from the vehicle's on-board computer.
The O2 Sensor Monitor test function is not supported by vehicles whichcommunicate using a controller area network (CAN). For O2 Sensor Monitor
tests results of CAN-equipped vehicles, refer to On-Board Monitor

On-Board Monitor
This option allows you to view the results of On-Board Monitor tests. The tests are useful after servicing or after erasing a vehicle's control module memory.

Component Test
This service enables bi-directional control of the ECM so that the diagnostictool is able to transmit control commands to operate the
vehicle systems. Thisfunction is useful in determining how well the ECM responds to a command.

Vehicle Information
The option displays the vehicleidentification number (VIN), the calibrationidentification, and the calibration verification number (CVN), and other information of the test vehicle.

Vehicle Status
This item is used to check the current condition of the vehicle, including communication protocols of OBD II modules, retrieved codes
amount, status of the Malfunction Indicator Light (MIL), and other additional information may be displayed.

Service
The Service section is specially designed to provide you quick access to the vehicle systems for various scheduled service and maintenance performances.
The typical service operation screen is a series of menu driven executive commands. By following the on-screen instructions to select appropriate
execution options, enter correct valuesor data, and perform necessary actions, the system will guide you through the complete performance for
various service operations.

The most commonly performed service functions include:
Oil Reset Service
TPMS Programming Service
EPB Service
ABS/SRS Services
SAS Calibration Service
DPF Regeneration Service

This section describes the main functions for vehicle service:

Oil Reset Service
This function allows you to perform reset for the Engine Oil Life system, which calculates an optimal oil life change interval depend on the
vehicle driving conditions and climate. The Oil Life Reminder must be reset every time the oil is changed, so the system can calculate when
the next oil change is required.

Tire Pressure Monitor System (TPMS) Service
This function allows you to quickly look up the tire sensor IDs from the vehicle's ECU,as well as to perform TPMS
programming and reset proceduresafter tire sensors are replaced.

Electric Parking Brake (EPB) Service
This function has a multitude of usages to maintain the electronic braking system safely and effectively.The applications include
deactivating and activating the brake control system, assisting with brake fluid control, opening and closing brake pads, ands etting brakes
after disc or pad replacement, etc.

ABS/SRS Services
This function allows you to perform various bi-directional tests to check the operating conditions of both the Anti-lock Braking System
and the Supplemental Restraint System, such as Automated Bleeding,Pump Motor Test,and checking Module information, etc.

Steering Angle Sensor (SAS) Service
This service function allow you to perform calibration for the Steering Angle Sensor, which permanently stores the current
steering wheel position as the straight-ahead position in the steering angle sensor EEPROM. On successful completion of the calibration,
the steering angle sensor fault memory is automatically cleared.

DPF Regeneration Service
The Diesel Particulate Filter service function performs the regeneration procedure which is the DPF cleaning operation to clear
the blockage through continuous burning of the particulate matter captured in the DPF filter.If the DPF light on the vehicle comes
on and you successfully complete a DPF regeneration cycle, you will notice that the DPF light will automatically turn off.

Autel M908P MaxiSys Pro Reviews:
By Dave.J on May 20.2017
Let me just say I had no problem registering this online at Autel and I took serial number and password right from the machines screen as they show online. After I registered I also installed the CD that was supplied I did that no issues. Then I bought a 32GB sd card (Ultra) not that it matters but that's the max, I clicked install all updates on the card and boom all went on. Then I took the card out of the machine the 8GB supplied and updated that as a back up. I'm also gonna order one more 32GB to keep in the safe. No issues at all my serial number had a Q in it which is the USA one. My wifi works good as well.

By Juan H on October 21.2016
I owe many scanner , The Autel has give me the capabliety to scan more vehicles , look at more features. I very happy with the pruchase. I would recommend this scanner to anyone, affordable.has done wonder for my shop.

By Pen Ne on June 17.2016
Best bang for your buck hands down, I'm a master technician with ten years experience as a professional tech. For the money this scanner does more than any of its competitors for a fraction of the price. It puts my snap on scanner to shame! Does almost every make and model I program keys with it, reset adaption and service lights, look at live data , run tests, etc can't go wrong

By ARamada on February 10.2016
We have a small used car dealership and this scanner has been more than sufficient, pulling codes from different modules, the live data and the ability to communicate with nearly any make/model. If there is one complaint, it's that it doesn't have an internal battery so it always has to be plugged in, can't walk around with it with it on. The updates are constantly coming in which is another plus. It could use a little tuning, some words are misspelled but otherwise its been working fine.

By Texas cowboy on July 2015
I am still learning all the ins and outs of this piece of equipment, but I couldn't do my job without it. It is awesome! I concur with the warnings of others - be sure you order one that is not from China so that you can receive updates.

AUTEL MS908P MaxiSys Pro Specification:
Operating System: AndroidTM 4.0, Ice Cream Sandwich
Processor: Samsung Exynos Quad-Core Processor 1.4GHz
Memory: 2GB RAM & 32GB On-board Memory
Display: 9.7 inch LED capacitive touch screen with 1024x768P resolution
Connectivity: Ethernet: RJ45 Ethernet Connection,Cellular: 3G/4G module: WCDMA
Camera (rear): Rear-facing, 5.0 Mexgapixel, AF with Flashlight
Sensors: Gravity Accelerometer, Ambient Light Sensor (ALS)
Audio Input/Output: Microphone, Dual Speakers, 4-Band 3.5 mm stereotype/standard headset jack
Power and Battery: 11000 mAh 3.7 V lithium-polymer battery, Charging via 12 V vehicle power
Input Voltage: 12 V (9-24 V)
Power Consumption: 6.5 W
Operating Temperature: -10 to 55°C(14 to 131°F)
Storage Temperature: -20 to 70°C(-4 to 158°F)
Housing: Strong plastic housing with protective rubber boot
Dimensions (W x H x D): 300 mm (11.81") x 220 mm (8.66") x 50 mm (1.97")
Weight: NW: 1.42 kg (3.13 lb), MaxiSys GW: 8.655 kg (19.08 lb) / MaxiSys Pro GW: 8.052 kg (17.75 lb)

Autel M908P MaxiSys Pro Package List
Quick reference guide
Lighter Fuse
Main cable
Protective carrying case
USB Cable
User's Manual
Cigarette Lighter
Compact Disc (CD)
AC/DC External Power Adapter
Clipper Cable
Capacitive Stylus Pen
Soft Cloth
Packing List
Mini USB Cable
Ethernet Serial Cable
GM/Daewoo-12 adaptor
PSA-2 adaptor
Fiat-3 adaptor
Audi-2+2 adaptor
BMW-20 adaptor
Benz-38 adaptor
Kia-20 adaptor
Mitsubishi/Hyundai-12+16 adaptor
Nissan-14 adaptor
Honda-3 adaptor
Chrysler-16 adaptor
Benz-14 adaptor (Optional)